Youssou N'Dour Sings Songs From the Past and Distributes Them With Technique for the Future by Menyou
The 3rd of April, Is the Night Before the Independence Day in Senegal; Youssou N'Dour -- the Polar Music Prize Winner 2013 -- Releases His New Album Called 'Fatteliku' Which in Wolof (One of the Most Spoken Languages in Senegal).....
(April 03, 2014)

LUXEMBOURG -- (Marketwired) -- 04/03/14 -- The "Fatteliku'" albums four tracks are traditional songs and where written by singers from the past. Youssou N'Dour have changed the rhythm but kept the main theme and the result is marvellous.
He mixes the genuine traditional legacy with a modern sound "Tradi-Moderne". Also in the distribution, he wants to use new technology. That is why the album is to be distributed on a digital platform, and he has chosen menyou.com for this purpose.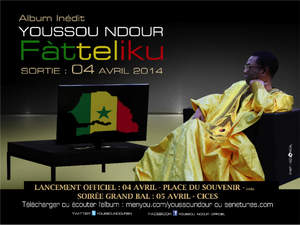 Kisito Diene Head of Operation Menyou Africa, describes how Menyou together with Youssou N'Dour, in the fall of 2013, distributed his concert from Bercy in Paris throughout special designed download cards made by Menyou. Each card have a scratch code, and with that code, customers can go to menyou.com to redeem it and get their content. This new type of technological innovation -- solves the problem of the lack of bank cards in African countries, including Senegal.
The Bercy concert cards contain a bonus -- the "Fatteliku" album. And are available at menyou.com or buy it from Youssou N'Dour himself at menyou.com/youssoundour
Menyou is a global digital service allowing artists and content owners to upload content, set up their business rules and distribute their content. Menyou makes it possible for anyone to sell, resell and distribute online content such as music, films, books, pictures and more without any costs. The revenue is up to 90% to the users. The content can be sold under the users own brand name globally in 236 countries. Anyone can, without costs, become partner with Menyou and the creator and resell the content via their blogs, webpages or social networks and earn a percentage of the revenue of each sale or subscriber. We call all this The Digital Fair Trade Initiative. Menyou is a Swedish company owned by its founders, partners, staff and users.
LINK OF THE VIDEO: https://www.youtube.com/watch?v=z1F45tOu5vs
About Menyou
Menyou is a disruptive service to share and value all digital content, such as music, films, books, games and applications. Menyou lets creative people make a living from their passion, talent or experience, and helps to expand the creative base in the world. The user-friendly and easy-to-use management digital content solution allows the creation of micro stores that can be placed on any blog, webpage or social network on the Internet in less than 4 minutes. Content owners may earn as much as 90% of the value they create. Menyou is based in London, Luxembourg and Stockholm.
Image Available: http://www2.marketwire.com/mw/frame_mw?attachid=2559675

Contacts:

Kisito Diene
Head of Operation
Menyou Africa
kisito.diene@menyou.com

Tony Fahlström
CEO
tony.fahlstrom@menyou.com

https://www.mynewsdesk.com/menyou


Copyright @ Marketwire
Page: 1
Related Keywords:
Africa, Marketwire, Music, Internet Technology, Business, Internet,
---