Yodo1 and ZeptoLab Partner to Launch First ZeptoLab Game on KakaoTalk
Cut the Rope Developer to Offer Game Titles to Asian Market Through Exclusive Distribution Partnership With Yodo1
(April 28, 2014)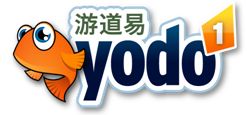 SAN FRANCISCO, CA and BEIJING, CHINA -- (Marketwired) -- 04/28/14 -- Yodo1, global publisher of smartphone games, today announced it is partnering with ZeptoLab, creator of Cut the Rope, to co-develop the company's first game for KakaoTalk, one of Asia's top messaging and social media platforms: The game, a new version of Cut the Rope 2 customized for KakaoTalk, will launch on the platform in the next few months. In support of the partnership and further expansion efforts throughout Asia, Yodo1 also announced the opening of satellite studios in both South Korea and Japan, the world's top markets for app store revenue alongside the US.
ZeptoLab also announced that Yodo1 will bring all of ZeptoLab's currently available titles to the Chinese market, including games within its massively popular "Cut the Rope" franchise. The partnership comes as Yodo1 reports over 150 million global players, largely in the West and in China. According to App Annie, Yodo1 is now among the top five mobile game publishers in the Chinese market.
"We're very proud to partner with ZeptoLab as we both expand our operations into Asia," said Yodo1 CEO Henry Fong. "We co-developed new editions of Cut the Rope: Time Travel and Cut the Rope 2 to become hits in China, and we'll apply the same culturalization strategy when we launch Cut the Rope 2 on KakaoTalk. Now that we have a large presence in China, the US, and the top English-speaking markets, our next goal is to capture the top monetizing markets of Korea and Japan."
First launched in South Korea with rising popularity in Japan, KakaoTalk now boasts nearly 135 million users worldwide, and reports grossing over $300 million in game revenue in the first half of 2013.
"Our co-development of a game for KakaoTalk with Yodo1 will support our goals of reaching new markets," said ZeptoLab CEO Misha Lyalin. "We want to ensure that players across the world can enjoy our games, and we're confident Yodo1 will help us bring our unique game experience to new fans in China and Korea."
About ZeptoLab
ZeptoLab UK Limited is a global gaming and entertainment company best known for developing the award-winning, hit franchise Cut the Rope®, which includes Cut the Rope, Cut the Rope: Experiments and Cut the Rope: Time Travel, available across platforms and devices, and Cut the Rope 2, now available for iOS and Android. Cut the Rope games have been downloaded more than 500 million times by users around the world since the game's debut in October 2010. The company has also released Pudding Monsters™, which can be downloaded on Android and iOS platforms. For more information, please visit www.zeptolab.com.
ZeptoLab, Cut the Rope, Om Nom, Nommies and Feed with Candy are the trademarks of ZeptoLab UK Limited. TM/© 2014 ZeptoLab UK Limited.
About Yodo1
Yodo1 (www.yodo1.com) is a leading publishing platform which helps mobile game developers gain traction and monetize throughout China and the world. Staffed by a team of experienced engineers, creative artists, game designers, and global market experts, Yodo1's platform includes KT Play, an in-game community SDK for developers who want to sustain growth and engagement. Yodo1 has co-developed a number of hit games featured on Apple's App Store, Google Play, and China's top Android app stores, including OMG:TD! from Red Rocket Games (Shanghai), Cavemania from Bonus XP (Texas), Cut the Rope; Time Travel from ZeptoLab (Russia), Powder Monkeys from XMG Studio (Canada), Ski Safari from Defiant Development (Australia), and Clouds & Sheep from HandyGames (Germany). Founded in 2011, Yodo1 is based in Beijing with a presence in San Francisco and Shanghai. For more information, please visit www.yodo1.com and follow Yodo1 on Twitter at https://twitter.com/yodo1.
Media Contact
Vanessa Camones
theMIX agency for Yodo1
Email Contact


Copyright @ Marketwire
Page: 1
Related Keywords:
Communications, Web, Smart Phone, Search, Google, Social Media, Internet, Social Media, Social Network, Game Development, Marketing/Distribution, Mac, Android, China, Japan, Korea, Marketwire, Entertainment, china,
---