Stanley Tomchin Helps to Dress Homeless and Needy in Las Vegas
(March 24, 2014)
SANTA BARBARA, CA -- (Marketwired) -- 03/25/14 -- In December 2013 the unemployment rate of Nevada fell to a seasonally adjusted rate of 8.8 percent, the lowest number since November 2008. But despite the improvement in the state overall, the unemployment rate in Las Vegas is still climbing. According to a report by the Nevada Department of Employment, Training and Rehabilitation, the rate for the metropolitan area increased by 0.3 percent to 8.9 percent. As a result, thousands of homeless individuals and families can be found all over the city -- on the streets, in parks or wherever else they find shelter. Factors that contribute to the growing number of homeless people are a scarcity in affordable housing options and dwindling employment opportunities for job searchers that have high school education or less. And even many employed citizens are struggling: With a minimum wage of only $8.25 per hour many find themselves forced to work multiple jobs.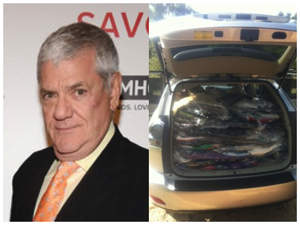 Despite the growing gap between rich and poor, many Las Vegas residents who are doing well are trying to help those less fortunate. Several local non-profit organizations reach out to people in need and try to assist them as best they can. One of them is The Shade Tree, a shelter for homeless and abused women and children in crisis, which offers life-changing services promoting stability, dignity and self-reliance. The Safe Nest is Nevada's largest and most comprehensive charity devoted to domestic violence issues and concentrates on four areas: shelter, counseling, advocacy and prevention. Both organizations assist homeless people in need with all basic life needs such as meals, clothing, beds, showers, hygiene supplies and referrals. Since these charities need to rely heavily on donations, Stanley Tomchin decided to help.
In a letter to friends in California he explains his plan: "As many of you know I live part-time in Las Vegas, a community suffering more than most in this country. Consequently I decided to ask my Montecito friends if they would clean out their closets of unneeded/unwanted clothes so we might donate to the homeless and needy in Las Vegas." The used clothing can be any size or gender, even used tennis clothes and equipment are gladly accepted. Stanley Tomchin, an avid philanthropist, has his main residence in Santa Barbara, California, but lives part-time in Las Vegas where he gets to witness the tough circumstances under which some people are living with his own eyes. "Friends tell me they've never seen so many needy families in stressful situations in more than twenty years. Whole families 'work' the parking lots at malls asking for $1 to feed their children."
Stanley Tomchin, known as the world's most successful professional games player, is now focusing on living healthy, playing tennis, and supporting charities everywhere, especially those in the state of Nevada. Starting out as a chess, bridge and backgammon wiz, he used his talents and luck to make his way in the gaming industry, leading to the worldwide fame and a successful career. Recognizing how lucky he was in doing what he loves, Stan is now dedicating his life to sharing his good fortune by supporting charities and donating to good causes, helping those who are less fortunate.
Stanley Tomchin Blog: http://www.StanleyTomchin.com
Facebook: http://www.facebook.com/pages/Stanley-Tomchin/592476647495756
Twitter: http://www.twitter.com/StanleyTomchin
Image Available: http://www2.marketwire.com/mw/frame_mw?attachid=2550199

Add to Digg Bookmark with del.icio.us Add to Newsvine
Contact Information
PR Agency Contact:
ICMediaDirect.com
TEL: 1.800.595.0821
www.ICMediaDirect.com


Copyright @ Marketwire
Page: 1
Related Keywords:
Marketwire, Sports, Tennis, Children, Women,
---