St. John Fisher College Deploys Meru Education-Grade (MEG) 802.11ac Wi-Fi to Meet the Needs of the All-Wireless Campus
Meru AP832s Help Meet the Expectations of Gen Wi-Fi for Always-On Wireless Connectivity
(February 19, 2014)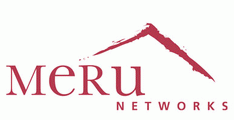 SUNNYVALE, CA -- (Marketwired) -- 02/19/14 -- Meru Networks® (NASDAQ: MERU), a leader in Wi-Fi networking, today announced that St. John Fisher College, a liberal arts college in the Catholic tradition in Rochester, N.Y., has deployed the Meru Education-grade (MEG) Gigabit Wi-Fi solution at its business school and expanded Wi-Fi access at its residential halls. The 802.11ac wireless LAN helps the college address student and faculty expectations for always-on wireless connectivity and supports the explosive use of Wi-Fi devices.
"Wireless is a utility, and it needs to be 100-percent reliable and deliver the performance that people expect. With Meru, we can provide a wireless LAN service to our students and faculty that meets and exceeds their expectations and is ready for anything," said Dan Kinsman, CIO at St. John Fisher College. "With Meru's Virtual Cell and channel layering technology, clients can roam between access points without experiencing the 'sticky client' problem, and we can deliver the best possible user experience."
The MEG wireless solution covers all academic and administrative buildings and residence halls on the college's 154-acre campus. St. John Fisher College has about 4,000 students, all of whom frequently stream classroom lectures, watch movies, play games and use learning applications such as Blackboard Mobile Learn™ over the wireless LAN. St. John Fisher College selected Meru for its high-device density and for the ease of deployment and management enabled by the single-channel, Virtual Cell deployment option of the MobileFLEX architecture. The wireless network consists of Meru access points, controllers and E(z)RF® Network Manager software.
With the installation of Meru AP832 802.11ac Access Points at the Victor E. Salerno Center for American Enterprise, the college's School of Business, students and faculty are experiencing higher data rates and greater reliability when using their mobile devices. The state-of-the-art building includes a mock trading floor, an LED ticker streaming real-time financial data and large classrooms.
The MEG solution is designed to solve educational institutions' BYOD issues and support their learning-essential applications. MEG starts with three simple steps:
1. On-board quickly with BYOD provisioning and secure wireless access mapped to IT policies.
2. Connect all BYOD devices reliably anywhere on campus.
3. Learn by deploying validated learning and teaching applications on BYOD devices over the MEG wireless solution.
"Colleges and universities are demanding more from their wireless networks, with classrooms of students running collaborative applications, role-playing games in the residence halls and tens of thousands of tablets streaming movies and music," said Sarosh Vesuna, vice president and general manager of business units at Meru. "The simplicity and ease of use of the MEG solution allows students, professors, visitors and staff to have a fast, seamless connection to the network that only a few short years ago could only be delivered by a wired connection."
Additional information about the Meru MEG solution is available here: http://bit.ly/15vW5Oh.
For more information about Meru MobileFLEX, visit the MobileFLEX launch landing page on the Meru web site: http://bit.ly/ZNqPEc.
About Meru Networks
Meru Networks (NASDAQ: MERU) is a market leader in the development of mobile access and virtualized Wi-Fi solutions. Meru's MobileFLEX wireless architecture addresses the ever-growing need for higher bandwidth and higher client densities. The Meru Identity Manager solution greatly simplifies secure device on-boarding and the company's unique Context-aware Application Layers enable dedicated channel assignments for specific applications, devices and usage scenarios. Meru customers include Fortune 500 businesses as well as leaders in education, healthcare and hospitality. Founded in 2002, Meru is headquartered in Sunnyvale, Calif., with operations in North America, Europe, the Middle East, Asia Pacific and Japan. Visit www.merunetworks.com or call (408) 215-5300 for more information.
©2014 Meru Networks. Meru and E(z)RF are registered trademarks and the Meru logo is a trademark of Meru Networks, Inc. in the United States. Blackboard Mobile Learn is a trademark of Blackboard, Inc.
Add to Digg Bookmark with del.icio.us Add to Newsvine
Press Contact
Wilson Craig
Director of Public Relations
Meru Networks
+1 408 516 6182
wcraig@merunetworks.com


Copyright @ Marketwire
Page: 1
Related Keywords:
Applications, Public Relations, Education, Networking, Internet, Connectivity, Wireless, Architecture, Internet Server Applications, Management, CTO/CIO, Computers/Peripherals, Business, Network (LAN), WiFi/Wireless, Notebook/Laptop/Tablets, Network (LAN), USA, Japan, Marketwire, Inc., Music, Internet Technology, Business, middle east,
---