Soul and Vibe Reports Strong Content Monetization for Timeless Gems
Announcement of the "Free-To-Play" Game's Conversion Rate Is Hot on the Heels of a Doubled User Download Rate Across Multiple Platforms
(April 24, 2014)

MINNEAPOLIS, MN -- (Marketwired) -- 04/24/14 -- Soul and Vibe Interactive Inc. (OTCQB: SOUL), "The Company," a video, mobile, and computer games publisher, announced today that content monetization for Timeless Gems is trending above the industry average on Facebook, Apple iOS, and Android platforms. Timeless Gems is a "match-3" game, the same popular genre as Candy Crush.
Timeless Gems is a "Free-To-Play" game, which means the game is downloadable for free. The top performing games on Facebook and mobile platforms are "Free-To-Play," with in-game/in-app content purchases creating the revenue stream. The percentage of users who download/install a game for free, and subsequently make an in-game/in-app content purchase, is known as the conversion rate. The higher the conversion rate, the greater the amount of revenue generated by the game.
Gamasutra notes that, in most "Free-To-Play" games, 1-2% of users purchase content. In what is identified as a "healthy game," the conversion rate rises to 3-6%. A very small number of games that focus on a niche audience VS mass-market appeal can potentially generate a conversion rate of 10% or higher. The rates of conversion for Timeless Gems, per platform, are above the industry average. The Facebook version has generated a 4% conversion, the Android version has a 6% conversion, and the Apple iOS version has an 8% conversion. In addition, Timeless Gems is a game that demonstrates mass-market appeal. As reported on April 23, 2014, Timeless Gems has surpassed 180K downloads across its Facebook, Apple iOS, and Android versions. The download rate has more than doubled since the Company announced a download rate of over 70K on March 31, 2014, which was more than triple the initial download rate reported on March 16, 2014.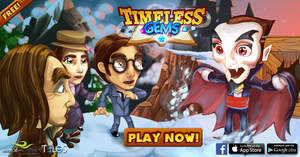 By comparison, over 15.5 million people play Candy Crush, the world's number one "match-3" game, each day on Facebook, worldwide. It generates annual revenues of approximately $481 million and has been downloaded over 500 million times on mobile devices. According to Daily News, Candy Crush has a 4% conversion rate. As per a recent article by International Business Times, Zynga, one of the largest video game makers whose games include Farmville and many others, has a conversion rate of 2.5%.
Across all platforms on which it can be played, Timeless Gems meets or exceeds the Candy Crush and Zynga conversion rates.
"We are very excited by the strength of the Timeless Gems conversions," said Soul and Vibe's CEO and President Peter Anthony Chiodo. "We recently reported that the download rate for Timeless Gems more than doubled since March 31, 2014. We also recently launched our first expansion 'book,' Dracula, which introduced new play mechanics. Everyone associated with the production and launch of the game has worked very hard to create an experience that resonates with consumers and stands apart from the competition."
In Timeless Gems, your favorite storybooks come to life in an innovative "match-3" puzzler that's wrapped in a board game. Timeless Gems creates an innovative play experience by combining highly popular "match-3" game play with board game elements. This combination lets players experience classic stories like Dracula, Alice's Adventures in Wonderland, and The Wonderful Wizard of Oz in a whole new way. Playing as core characters from the classic books in the Timeless Gems library, you'll meet a colorful cast of heroes and villains. Match gems, power up, and connect and play with your friends on Facebook. The game was developed by Telos Entertainment.
To view the official trailer for Timeless Gems, as well as the individual trailers for all "books" currently featured in the Timeless Gems library, visit the official Timeless Gems Facebook app page, www.facebook.com/timelessgemsgame. Additional information and updates can be found on the official Soul and Vibe website: http://www.soulandvibe.com and the game's official website, www.timelessgemsgame.com.
Play Timeless Gems here: www.facebook.com/timelessgemsgame
Official Timeless Gems Site: www.timelessgemsgame.com
Soul and Vibe Investor Page: http://ir.soulandvibe.com
About Telos Entertainment Inc.
Telos Entertainment Inc. is a developer of multi-platform gaming products. Telos Specializes in the creation of unique, immersive gaming products for IOS/Android, Facebook and PC/Mac Download. Telos has extensive partnerships with companies such as Soul and Vibe, Recurrence, REGW and Slingo inc. Telos creates both original intellectual properties and works closely with clients such as Zynga, Play Mechanix, GTech, SciGames, A&E and National Geographic. www.telosentertainment.com
About Soul and Vibe Interactive Inc.
Soul and Vibe Interactive Inc. (also Soul & Vibe Interactive Inc. on www.sec.gov) is a publisher of games and games-related content for consoles, mobile devices, and personal computers addressing a $56 billion market projected to grow to $82 billion by 2015. The Company specializes in the creation of original intellectual properties and has extensive experience licensing world-renowned brands from influential companies. Soul and Vibe has a license agreement with General Mills, and game development and publishing agreements for the Xbox 360® video game and entertainment system, Windows 8, Windows Live, and Windows Phone from Microsoft, and the PlayStation® 3 computer entertainment system and PlayStation® Vita (PS Vita) from Sony. Through partnerships with technically sophisticated software developers located all over the world, Soul and Vibe transforms unique concepts into engaging, highly accessible, and affordable games and entertainment experiences. www.soulandvibe.com.
Facebook: https://www.facebook.com/soulandvibe
Twitter: https://twitter.com/soulandvibe
Linkedin: http://www.linkedIn.com/company/2800907?trk=tyah
Safe Harbor Statement
This press release contains information that constitutes forward-looking statements made pursuant to the safe harbor provisions of the Private Securities Litigation Reform Act of 1995. All statements, trends, analysis, and other information contained in this press release, including words such as "anticipate," "believe," "plan," "estimate," "expect," "intend," and other similar expressions of opinion, constitute forward-looking statements. Any such forward-looking statements involve risks and uncertainties that could cause actual results to differ materially from any future results described within the forward-looking statements. Risk factors that could contribute to such differences include those matters more fully disclosed in the Company's reports filed with the Securities and Exchange Commission. The forward-looking information provided herein represents the Company's estimates as of the date of the press release, and subsequent events and developments may cause the Company's estimates to change. The Company specifically disclaims any obligation to update the forward-looking information in the future. Therefore, this forward-looking information should not be relied upon as representing the Company's estimates of its future financial performance as of any date subsequent to the date of this press release.
Image Available: http://www2.marketwire.com/mw/frame_mw?attachid=2574130

Add to Digg Bookmark with del.icio.us Add to Newsvine
Contact:

Investor Relations
Andrew Haag
IRTH Communications
Phone: +1-866-976-4784
Email Contact

or

Tel: +1-763-400-8040
Website: www.soulandvibe.com


Copyright @ Marketwire
Page: 1
Related Keywords:
Game Development, Computers/Peripherals, Business, Computer, Workstation/CPU, iOS, Mac, Android, Marketwire, Inc., Games, Game Technology, Business, Entertainment, Other,
---