Soul and Vibe Licenses Striker Rush: Champion Edition to Tanjarine
Soccer Game Introduces Sports to the Tanjarine Platform
(July 29, 2014)

MINNEAPOLIS, MN -- (Marketwired) -- 07/29/14 -- Soul and Vibe Interactive Inc. (OTCQB: SOUL), "The Company," a video and computer games company, today announced that it has licensed Striker Rush: Champion Edition, an easy to pick-up-and-play soccer game, to Tanjarine, a subsidiary of TouchTunes, the largest provider of in-venue music and entertainment. Striker Rush: Champion Edition is the second Soul and Vibe game to be licensed to Tanjarine.
Tanjarine is the first integrated tabletop ordering, entertainment and pay-at-the-table solution to combine 10" proprietary tabletop tablets with server handhelds, which expedites service, payment, and second screen TV's. The platform provides guests with menu and entertainment options, portability that eliminates the constraints of one-tablet-per-table installations, and other innovations that help increase restaurant efficiency and average check size. Customizable for bars and restaurants, Tanjarine's catalog of entertainment offers games, music and content that targets everyone from families to sports fans to couples and more. Many of the games also enable guests to play with a friend or connect the tabletop tablets to second screens TV's located throughout a venue, creating a more interactive gaming experience.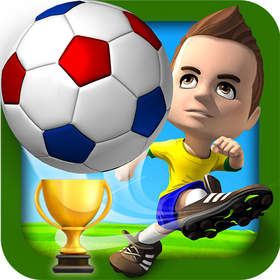 Earlier this month, while the World Cup was in full swing and hundreds of millions of viewers were captivated by soccer, Soul and Vibe launched a unique version of its high-speed "lane runner" soccer game, Striker Rush: Champion Edition on the Tanjarine platform. Striker Rush: Champion Edition is the first sports game to be released on the Tanjarine platform, which continues to round out their gaming offerings.
In addition to Striker Rush: Champion Edition, Tanjarine has licensed the Company's highly popular and innovative "match-3" game, Timeless Gems for their platform. Tanjarine has licensed other Soul and Vibe games as well. Specifics will be publicly disclosed in the coming weeks.
"We are very excited to announce the launch of Striker Rush: Champion Edition for the Tanjarine platform," said Soul and Vibe's CEO and President, Peter Anthony Chiodo ("Tony"). "Striker Rush: Champion Edition is a fun, fast-paced and easy to pick-up-and play sports game that appeals worldwide to soccer fans and gamers of all ages. 700 million viewers worldwide watched this year's World Cup. It was the most watched World Cup, ever. With the world's attention fixed on soccer, the release of Striker Rush: Champion Edition, both commercially and on the Tanjarine platform, has been a perfect complement to the drama of the World Cup. Our announcement today is also particularly exciting for Soul and Vibe given Striker Rush: Champion Edition is the first sports game to be launched on the Tanjarine platform. As a company, we are very proud of that."
Commercially, the Company released Striker Rush: Champion Edition worldwide on Apple's App Store for iPhone, iPad, and iPod Touch and on the Android platform, via Google Play and Amazon.com, in June 2014. Striker Rush: Champion Edition is a speed-escalating "lane-based runner" in which you dribble through defenders, dodge obstacles, collect pick-ups, and score goals. Playing as your favorite national team, you compete against a wealth of rival teams for the ultimate in bragging rights: The top-seat on the global leaderboard. Striker Rush: Champion Edition is available as both a "Free-To-Play" game that features in-game/in-app consumable content, and a "Premium," all-in game. The game was developed by 1DER Entertainment Ltd.
For more information on Striker Rush: Champion Edition, visit the official Striker Rush Facebook fan page, www.facebook.com/StrikerRush. Additional information and updates can be found on the official Soul and Vibe website: http://www.soulandvibe.com.
Soul and Vibe Investor Page: http://ir.soulandvibe.com
About Tanjarine
Tanjarine is an integrated dining and entertainment platform that allows restaurant guests to order from digital menus, play games and music, and pay from tablets at their tables. The company's services are designed to dramatically improve restaurant service levels by giving guests more choice and engagement during their dining and entertainment experience. The company is based in Mountain View, CA, and is a subsidiary of TouchTunes, the largest provider of in-venue music and entertainment. For more information, visit www.tanjarine.com.
About Soul and Vibe Interactive Inc.
Soul and Vibe Interactive Inc. (also Soul & Vibe Interactive Inc. on www.sec.gov) is a publisher of games and games-related content for consoles, mobile devices, and personal computers addressing a $56 billion market projected to grow to $82 billion by 2015. The Company specializes in the creation of original intellectual properties and has extensive experience licensing world-renowned brands from influential companies. Soul and Vibe has license agreements with General Mills and Deere & Company, and game development and publishing agreements for the Xbox 360® video game and entertainment system, Windows 8, Windows Live, and Windows Phone from Microsoft, and the PlayStation® 3 computer entertainment system and PlayStation® Vita (PS Vita) from Sony. Through partnerships with technically sophisticated software developers located all over the world, Soul and Vibe transforms unique concepts into engaging, highly accessible, and affordable games and entertainment experiences. www.soulandvibe.com.
Facebook: https://www.facebook.com/soulandvibe
Twitter: https://twitter.com/soulandvibe
LinkedIn: http://www.linkedIn.com/company/2800907?trk=tyah
Safe Harbor Statement
This press release contains information that constitutes forward-looking statements made pursuant to the safe harbor provisions of the Private Securities Litigation Reform Act of 1995. All statements, trends, analysis, and other information contained in this press release, including words such as "anticipate," "believe," "plan," "estimate," "expect," "intend," and other similar expressions of opinion, constitute forward-looking statements. Any such forward-looking statements involve risks and uncertainties that could cause actual results to differ materially from any future results described within the forward-looking statements. Risk factors that could contribute to such differences include those matters more fully disclosed in the Company's reports filed with the Securities and Exchange Commission. The forward-looking information provided herein represents the Company's estimates as of the date of the press release, and subsequent events and developments may cause the Company's estimates to change. The Company specifically disclaims any obligation to update the forward-looking information in the future. Therefore, this forward-looking information should not be relied upon as representing the Company's estimates of its future financial performance as of any date subsequent to the date of this press release.
Image Available: http://www2.marketwire.com/mw/frame_mw?attachid=2646524

Contact:

Investor Relations
Andrew Haag
IRTH Communications
Phone: +1-866-976-4784
Email Contact

or

Tel: +1-763-400-8040
Website: www.soulandvibe.com


Copyright @ Marketwire
Page: 1
Related Keywords:
Game Development,Computers/Peripherals,Computer,Workstation/CPU,Notebook/Laptop/Tablets,Video,Mac,Android,OS9,OSX,Marketwire, Inc.,Apple Computer,Sports,Music,Games,Game Technology,Entertainment,Sports,Soccer,Gamers,Other,
---