Soul and Vibe Announces 2nd Expansion Pack for Timeless Gems
Company's 2nd Expansion "Book" for Timeless Gems is J.M. Barrie's Peter Pan (July 28, 2014)

MINNEAPOLIS, MN -- (Marketwired) -- 07/28/14 -- Soul and Vibe Interactive Inc. (OTCQB: SOUL), "The Company," a video, mobile, and computer games publisher, announced today that it will add J.M. Barrie's classic book, Peter Pan, to the Timeless Gems library. Peter Pan is the second expansion "book" for the Timeless Gems game. Its release will add an all-new interactive storyline and new play mechanics to the game's innovative "match-3" gameplay experience that has garnered praise from both players and the press.
Peter Pan will be released late July 2014 for all Timeless Gems platform versions. Timeless Gems was launched worldwide on Facebook, Apple's App Store, and Google Play during the first quarter of 2014. The Company launched the game's first expansion "book," Bram Stoker's Dracula, in April 2014.
"Since childhood, Peter Pan has been one of my favorite books," said Soul and Vibe's CEO and President Peter Anthony Chiodo. "Think about it... who hasn't wanted to be able to fly, travel to a hidden island, fight pirates, and visit with mermaids? As a book, Peter Pan has it all: Adventure, suspense, mystery, a touch of romance; these are all things that J.M. Barrie brilliantly packaged and presented in one the most endearing, and timeless, pieces of literature ever written. I am so proud of the work our development team has put into our Peter Pan expansion. Peter Pan's rich story and characters are a perfect fit for the diverse gameplay and inventive puzzles for which Timeless Gems, as a game, has become known. Like our depictions of Alice's Adventures in Wonderland, The Wonderful Wizard of Oz, and Dracula before it, Timeless Gems' Peter Pan has really captured the heart and soul of a classic."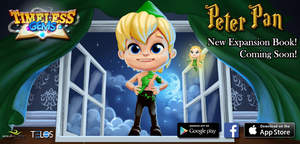 "Peter Pan is the best book in the Timeless Gems library to date," said Soul and Vibe's Quality Assurance Manager, Tim Moravec. "Peter Pan, as a book, features six new chapters and 37 all new puzzles. It introduces new mechanics that play to the iconic characteristics of Peter Pan, as a story. I've never before seen a "match-3" game in which you dodge cannonballs, fight pirates, and play catch with mermaids. Peter Pan carries on the tradition we started with Dracula in which you play multiple characters as the story progresses. One of my favorite things in the expansion is a sword fight you have, as Peter Pan, with Captain Hook, one of the most iconic villains of all time. In addition, Peter Pan features some other really cool surprises."
In Timeless Gems, your favorite storybooks come to life in an innovative "match-3" puzzler that's wrapped in a board game. Timeless Gems creates an innovative play experience by combining highly popular "match-3" game play with board game elements. This combination lets players experience classic stories like Peter Pan, Dracula, Alice's Adventures in Wonderland, and The Wonderful Wizard of Oz in a whole new way. Playing as core characters from the classic books in the Timeless Gems library, you'll meet a colorful cast of heroes and villains. Match gems, power up, and connect and play with your friends on Facebook. The game was developed by Telos Entertainment.
Peter Pan will be the fourth book in the Timeless Gems library and the game's second expansion, following the previously released Dracula. Both Alice's Adventures in Wonderland and The Wonderful Wizard of Oz were released in tandem with the launch of Timeless Gems.
To view the official trailer for Timeless Gems' Peter Pan expansion pack, visit the official Timeless Gems Facebook fan page, www.facebook.com/timelessgemsgame. Additional information and updates can be found on the official Soul and Vibe website: http://www.soulandvibe.com and the game's official website, www.timelessgemsgame.com.
Play Timeless Gems here: www.facebook.com/timelessgemsgame
Official Timeless Gems Site: www.timelessgemsgame.com
Soul and Vibe Investor Page: http://ir.soulandvibe.com
About Telos Entertainment Inc.
Telos Entertainment Inc. is a developer of multi-platform gaming products. Telos Specializes in the creation of unique, immersive gaming products for IOS/Android, Facebook and PC/Mac Download. Telos has extensive partnerships with companies such as Soul and Vibe, Recurrence, REGW and Slingo inc. Telos creates both original intellectual properties and works closely with clients such as Zynga, Play Mechanix, GTech, SciGames, A&E and National Geographic. www.telosentertainment.com
About Soul and Vibe Interactive Inc.
Soul and Vibe Interactive Inc. (also Soul & Vibe Interactive Inc. on www.sec.gov) is a publisher of games and games-related content for consoles, mobile devices, and personal computers addressing a $56 billion market projected to grow to $82 billion by 2015. The Company specializes in the creation of original intellectual properties and has extensive experience licensing world-renowned brands from influential companies. Soul and Vibe has license agreements with General Mills and Deere & Company, and game development and publishing agreements for the Xbox 360® video game and entertainment system, Windows 8, Windows Live, and Windows Phone from Microsoft, and the PlayStation® 3 computer entertainment system and PlayStation® Vita (PS Vita) from Sony. Through partnerships with technically sophisticated software developers located all over the world, Soul and Vibe transforms unique concepts into engaging, highly accessible, and affordable games and entertainment experiences. www.soulandvibe.com.
Facebook: https://www.facebook.com/soulandvibe
Twitter: https://twitter.com/soulandvibe
Linkedin: http://www.linkedIn.com/company/2800907?trk=tyah
Safe Harbor Statement
This press release contains information that constitutes forward-looking statements made pursuant to the safe harbor provisions of the Private Securities Litigation Reform Act of 1995. All statements, trends, analysis, and other information contained in this press release, including words such as "anticipate," "believe," "plan," "estimate," "expect," "intend," and other similar expressions of opinion, constitute forward-looking statements. Any such forward-looking statements involve risks and uncertainties that could cause actual results to differ materially from any future results described within the forward-looking statements. Risk factors that could contribute to such differences include those matters more fully disclosed in the Company's reports filed with the Securities and Exchange Commission. The forward-looking information provided herein represents the Company's estimates as of the date of the press release, and subsequent events and developments may cause the Company's estimates to change. The Company specifically disclaims any obligation to update the forward-looking information in the future. Therefore, this forward-looking information should not be relied upon as representing the Company's estimates of its future financial performance as of any date subsequent to the date of this press release.
Image Available: http://www2.marketwire.com/mw/frame_mw?attachid=2645810

Contact:

Investor Relations
Andrew Haag
IRTH Communications
Phone: +1-866-976-4784
Email Contact

or

Tel: +1-763-400-8040
Website: www.soulandvibe.com


Copyright @ Marketwire
Page: 1
Related Keywords:
Game Development, Computers/Peripherals, Computer, Workstation/CPU, Video, Trailer, Marketwire, Inc., Literature, Games, Lifestyle, Game Technology, Entertainment, Other,
---