Paciolan Announces Star Awards at Annual PACnet '14 Community Conference
University of Wisconsin, Theatre Under The Stars and Mile One Centre Recognized as Star Award Winners
(February 27, 2014)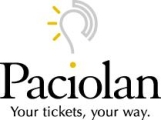 IRVINE, CA -- (Marketwired) -- 02/27/14 -- Paciolan, an industry-leading provider of ticketing, marketing, fundraising and sales automation solutions to more than 500 live entertainment organizations, announced today that it has recognized three clients as recipients of the company's Star Awards at Paciolan's annual PACnet '14 community conference. Each organization was recognized on Feb. 11 after opening remarks from Paciolan founder Jane Kleinberger who highlighted community accomplishments across all genres.
Paciolan executives Kim Damron, Senior Vice President of Client Partnerships and Marketing, and Steve Demots, Senior Vice President of Sales, announced the University of Wisconsin (Wisconsin), Theatre Under The Stars (TUTS) and Mile One Centre as recipients of the 2013 Star Awards. Wisconsin, TUTS and Mile One Centre were each acknowledged for their industry-leading innovations and achievements for implementing progressive programs and new initiatives over the past year.
"It is a pleasure to present the prestigious Star Awards to Wisconsin, Theatre Under The Stars and Mile One Centre to honor their continued success in ticketing, marketing, fundraising and sales efforts," said Kim Damron, Senior Vice President of Client Partnerships and Marketing at Paciolan. "All three recipients are marquee examples of leading organizations that have exceeded expectations by embracing new technologies and initiatives."
Wisconsin was presented with the college athletics Star Award for implementing a variety of best practices including stored value tickets. Wisconsin successfully launched the Uptix stored value solution this past hockey season, and in one weekend had nearly 2,000 loaded value ticket activated with 83% redemption over five events. Additionally, the university has embraced many ticketing best practices, and has excelled in marketing services with PACmail, display ad retargeting and the PAC Social platform.
Acknowledged as the Star Award winner from performing arts, TUTS was recognized for their continued excellence in ticketing, fundraising and marketing. The Houston-based non-profit performing arts venue took online donation drives to a new level by collecting the required donations and preferred performance date and time for their summer concert series, and in addition upsold a donation on every ticket purchase. Over the past year TUTS also upsold single tickets into pick-four packages and full season packages that generated a significant increase in additional subscription revenue, and has also implemented unique up-sell programs to increase ticket sales and donations.
Mile One Centre earned the company's Star Award for pro sports, arenas and regional ticketing partners for exceeding expectations in ticket sales, becoming an early adopter of new technologies and being a leader in best practices. Over the past year, the St. John's, Newfoundland arena sold out the majority of their events, including 25 games of their resident American Hockey League (AHL) tenant St. John's IceCaps, who now boast an outstanding 103 sellouts, two AHL All-Star events, and have sold out 95% of all concerts and family shows. Mile One Centre also implemented a customized online process to support their Right of First Refusal "Hot Seats" program and created a unique solution for "Air Miles" events, where customers can add their loyalty number when buying tickets to earn points for their purchases. Additionally, the 7,000 capacity venue was the first in this genre to launch mobile ticketing and 2D barcode delivery, and quickly became an early power user of the Paciolan 7 interface.
"We are pleased to honor our three Star Award winners for being innovators and thought leaders in their respective communities that seek to enhance their businesses," said Steve Demots, Senior Vice President of Sales at Paciolan. "Each award winner is a noteworthy example of an organization that has strived to implement new and effective programs and technologies that aid in building stronger customer relationships that lead to increasing revenues."
PACnet '14 was the largest PACnet to date, including 650 Paciolan clients, strategic business partners and attendees, highlighted by four keynote speakers, 165 presenters and 66 sessions during the four-day community event.
About Paciolan
Founded in 1980, Paciolan is the leader in venue enablement, powering ticketing, fundraising and marketing technology solutions for leading organizations across North America. Collectively, Paciolan powers over 500 live entertainment organizations that sell over 120 million tickets annually. Primary markets include college athletics, professional sports, performing arts, arenas and museums. Paciolan is a wholly owned subsidiary of Comcast-Spectacor.
Visit www.paciolan.com for additional company information.
Add to Digg Bookmark with del.icio.us Add to Newsvine
Paciolan Media Contacts:
Craig Ricks
Paciolan
Vice President of Marketing
949.823.1636 (O)

Steve Brown
Paciolan
Corporate Marketing Associate
949.823.4506 (O)


Copyright @ Marketwire
Page: 1
Related Keywords:
Marketwire, Business, Sports, Marketing Services, Business, Entertainment, Sports, Hockey, Family,
---