Paciolan Announces John Foley as a Keynote Speaker at PACnet '14 Conference
(October 23, 2013)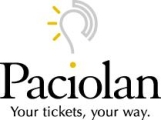 IRVINE, CA -- (Marketwired) -- 10/23/13 -- Paciolan, an industry-leading provider of ticketing, marketing, fundraising and sales automation solutions to more than 500 live entertainment organizations, announced today that John Foley, former Lead Solo Pilot of the Blue Angels, will be a keynote speaker at its annual PACnet community conference to be held Feb. 9-12, 2014 at the Newport Beach Marriott Hotel & Spa in Newport Beach, Calif. Foley will deliver his keynote on Monday, Feb. 10, immediately following opening remarks from Paciolan Founder, Jane Kleinberger and CEO, Dave Butler.
John Foley is a former Navy carrier pilot and instructor pilot, and was one of the top pilots in the world, winning six "Top Ten Carrier Pilot" awards. As an elite aviator, Foley became the Lead Solo Pilot of the Blue Angels Flight Demonstration Team, where he was part of a team that consistently performed in intense, high-stakes environments, performing and flying at speeds of more than 500 miles per hour and in formations as close as 18 inches from his teammates.
"It is an honor to speak at the PACnet '14 conference and discuss high-performance teamwork," said John Foley, Founder and CEO of John Foley Inc. "I am eager to share what I have learned from my time as a Blue Angel and the process of successful communication, accurate information, trust, and follow-through; the same process leaders and successful individuals use to achieve excellence."
As a keynote speaker, Foley has delivered his messages focused on teamwork, trust, high performance and innovation to audiences around the world including the Global Sports Summit, Collegiate Sports Summit, the Sacramento Kings, and a pre-game motivational speech to the Portland Timbers. Foley highlights a contagious attitude of thankfulness, an energizing delivery that inspires high performance and service to others, and a practical model for living out his message during his presentations, that works in other organizations as well as it works for the Blue Angels.
Foley is a graduate of the U.S. Naval Academy with a degree in mechanical engineering, and also earned three master's degrees: business management from Stanford University's Graduate School of Business (as a Sloan Fellow), international policy studies from Stanford University, and strategic studies from the U.S. Naval War College. Foley played football for four years at the Naval Academy as a defensive back, playing in two bowl games and helping the Midshipmen to one of the best four-year records in its football history.
"We are thrilled to have John Foley speak at PACnet '14 and share his team-oriented message," said Dave Butler, Chief Executive Officer of Paciolan. "John's keynote will set the tone of PACnet with his focus on teamwork, high performance and achieving excellence, the foundation of our conference."
PACnet '14 provides educational sessions covering executive trends, social media, consumer marketing, CRM, ticketing, fundraising and revenue management, all aimed at helping teams and venues sell more and maximize revenue streams. Sessions are uniquely geared to each of the markets the company serves, including college athletics, performing arts, pro sports, museums, arenas, and ticketing partners.
About Paciolan
Founded in 1980, Paciolan is the leader in venue enablement, powering ticketing, fundraising and marketing technology solutions for leading organizations across North America. Collectively, Paciolan powers over 500 live entertainment organizations that sell over 120 million tickets annually. Primary markets include college athletics, professional sports, performing arts, arenas and museums. Paciolan is a wholly owned subsidiary of Comcast-Spectacor.
Visit www.paciolan.com for additional company information.
Add to Digg Bookmark with del.icio.us Add to Newsvine
Paciolan Media Contacts:
Craig Ricks
Paciolan
Vice President of Marketing
949.823.1636 (O)

Steve Brown
Paciolan
Corporate Marketing Associate
949.823.4506 (O)


Copyright @ Marketwire
Page: 1
Related Keywords:
Sales, Marketing, CRM - Customer Relationship Management, Sales & Marketing, Management, Sales, CEO/CFO, Sales, Pro AV, Management, Presentors, Prosumer/Consumer, Business, Marketing, Business Issues, Presentation, Marketing, Corporate/Company, Awards, USA, Marketwire, Inc., Science, Sports, Engineering, Business, Entertainment, Sports, Basketball, Military, Other,
---