Joy and Stanley Tomchin Work Together on an Award-Winning Documentary
(May 31, 2014)

SANTA BARBARA, CA -- (Marketwired) -- 05/31/14 -- Last week, Bill de Blasio, mayor of New York City, announced a housing initiative in cooperation with Gov. Andrew M. Cuomo that aims at helping low-income residents with HIV or AIDS. De Blasio also demonstrated his moral support by participating in the 29th Annual AIDS Walk through Manhattan, which took place on May 18, 2014. More than 30,000 people joined the walk in an effort to raise awareness and money, which will be distributed between 40 organizations that offer housing, medication and clothes to people who are afflicted by the disease. In a speech de Blasio gave in Central Park as part of the GMHC Aids Walk he pointed out that despite the decades-long fight against AIDS and HIV "this crisis continues and we have more to do."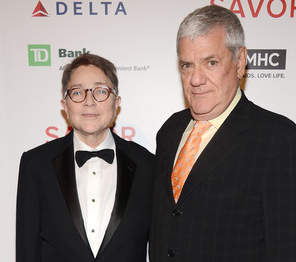 It seems that frequent reminders of the severity of the disease and the struggles associated with it are necessary. One such reminder was How To Survive A Plague, an acclaimed American documentary film, released in 2012. How To Survive A Plague tells the story of a group of people, many of them HIV-positive young men, who are faced with their own mortality. The documentary, which is largely based on archival footage from the 1980s and '90s, depicts the activism of AIDS groups ACT UP and TAG, fighting to turn AIDS from a deathly disease into a manageable condition. A former GMHC Board President, Joy A. Tomchin, is the executive producer for the documentary and was excited to work on it together with her brother, Stanley Tomchin: "Stan was one of the producers on this award-winning, Oscar-nominated film. He was one of our first and biggest supporters. Suffice it to say that this film would never have been made without his support."
Joy and Stanley Tomchin always have had a close bond to one another, which led to a very fruitful teamwork in supporting charities that they both believe in. Inspired through their mutual work in helping raise money for the GMHC and other LGBT causes over many years, they were both thrilled to be part of the How To Survive A Plague documentary. Together, Joy and Stan are striving to spread the GMHC message of "Fight AIDS. Love Life.", to raise awareness for the responsibility of both the government and the public in helping to stop this epidemic, to show the world what great things activism can achieve, to demonstrate that even little things can make a difference and to remind people how important it is to never stop fighting for something you believe in.
Over the last twenty years, Stanley Tomchin has been a very keen supporter of a number of philanthropic causes ranging from helping the homeless, educating the young, and supporting the wildlife. Born on Long Island in New York, Stan made a successful career as a professional games player who excelled in chess and backgammon, represented the United States in the bridge Olympiad, and went on to travel the world before settling on the West Coast. Today, Stan is an active supporter of numerous community-based and international non-profit organizations. One of his biggest success stories with regards to charities is a fund which Stan set up to address the unmet needs of the Las Vegas community by serving as a catalyst to make a difference in the lives of others. Looking back at how much he has achieved over the course of his life, Stan is happy and grateful that he now has a chance to give back by sharing his good fortune with others.
Stanley Tomchin Blog: http://www.StanleyTomchin.com
Facebook: http://www.facebook.com/pages/Stanley-Tomchin/592476647495756
Twitter: http://www.twitter.com/StanleyTomchin
Image Available: http://www2.marketwire.com/mw/frame_mw?attachid=2606541

Contact Information
PR Agency Contact:
ICMediaDirect.com
TEL: 1.800.595.0821
www.ICMediaDirect.com


Copyright @ Marketwire
Page: 1
Related Keywords:
Camera/Film,USA,Marketwire,Disease,Sexual,Surgery,Medication,Science,Film,Medical,Other,Men,
---