Is There an App for That? Knicket Launches App Search Engine
(July 17, 2014)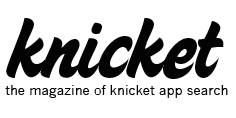 BERLIN, GERMANY -- (Marketwired) -- 07/17/14 -- Apps anyone? Knicket the app search engine makes web history this week as it officially launches following 12 months in development and beta testing. Cleverly designed to make searching for apps and games a breeze, Knicket works just like a traditional search engine but for apps instead of web pages.
Created to help smartphone and tablet users navigate the increasingly cluttered urban jungle, Knicket removes the guess work from app downloads. Built on an asynchronous database, Knicket apps are tailored and transparent, highlighting the most suitable apps for each search.
With an intuitive selection of savvy search tools, the real time engine guides users to the most suitable apps for their needs. A suite of clever tools such as user rating filters, a price slider and suggested tags to accompany the original search term quickly narrows down the 2 million apps available though the Apple App Store and Google Play store into a carefully curated list. A tagging system allows users to narrow search results and, because Knicket is an independent app search, results that are displayed are the best and true. This means the order isn't determined by app store interests, getting the user to the most relevant result and most appropriate app for their needs in no time at all.
Uwe Flade, Knicket Founder and CCO said, "Knicket is the fastest and best app search engine. Based on the latest technology and 100% independent, we use filters and sorting options to help the user refine their results. With millions of apps to choose from, this level of control is absolutely essential. There are more than 3500 fitness apps alone. iTunes and Google Play do not allow users to filter such results. Knicket does. For total convenience, Knicket also offers a web based app that can be used with all smart phones, no matter what the operating system. The interface will be improved further over the next few months for a totally slick browsing experience."
Dr. Thomas Jung, founder and CEO said, "Approximately 40,000 new apps are added to the App Store and Google Play each month. How do you know which app best suits your needs? How many pages of results do you need to scroll through and how many apps do you need to download before you find the one that does the job? Knicket gets it.
"Type in a query, use Knicket's tags to narrow or refine search results and add in as many filters as you want to get the best apps for your needs. No more frustrating downloads, false starts or hours spent trawling through page after page of two expensive apps. Search, select, download. It's that easy. We expect Knicket will be the app Wikipedia and Google in one."
Users heading to Knicket to find their perfect app simply type in their search term (for example San Francisco), use the suggested tags to refine the search (for example City Guide or Weather), and hit find. Apply filters to narrow down the hunt, view by price, choose to lock out apps below a certain star rating, order by release date or by number of downloads. There's also an option to cut out apps with in-app purchasing, making Knicket the slickest way to search all iOS and Android apps.
In the six months since it went live, Knicket has helped more than 600,000 users in 193 countries. Initially available in English, it will roll out almost a dozen foreign language versions before the end of 2014 and has plans to increase functionality and monetize its results with additional advertising options. Free to use, Knicket has already raised more than EUR 126,185.00 in seed funding through the companisto.com crowdfunding platform, with the campaign still ongoing. The German funding bank IBB has also provided a EUR 160,000 funding loan.
Knicket key features and facts:
Knicket has helped 600,000 users from 1932 countries in just six months
There are more than 2 million apps in the App Store and Google Play with 40,000 new apps added each month
Knicket makes searching for apps quick and easy
Tags and filters refine the search with results sorted by star rating, price, number of downloads, date published and whether or not in app purchased are permitted
An app mesh recommends apps based on user behavior
Knicket has no hidden in app purchases, sponsored links or fake or paid recommendations
Knicket is built on an asynchronous database which offers almost real time results
Knicket has raised EUR 126,185.00 in seed funding through Companisto crowdfunding
For more information, please visit http://knicket.com
Media Contacts:
Gene Kursky
X Factor Digital Marketing
1833 Front St
Scotch Plains, NJ 07076
(908) 288-7952
Email Contact
http://thexfactorteam.com


Copyright @ Marketwire
Page: 1
Related Keywords:
Internet,Communications,Web,Smart Phone,Search,Filters,Google,Sales,Advertising,Database,Internet,Search,Search Engines,OS (Operating System),Mac,Android,OS9,OSX,Germany,Marketwire,Science,Internet Technology,
---