God of War Meets Call of Duty on a New Battlefield: Developers Behind Industry's Biggest Projects Announce Kickstarter Campaign for "To The Death"
(January 21, 2014)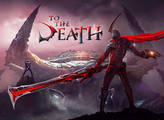 LOS ANGELES, CA -- (Marketwired) -- 01/21/14 -- Available today on Kickstarter, Scary Mostro (http://www.scarymostro.com/) and Section Studios (http://sectionstudios.com/) team up to bring you an evolution in classic side-scrolling action games with "To The Death." "To The Death (TTD)" is a video game from an alliance of key design, engineering, and visual development leads from the Call of Duty and God of War franchises. Coming to Steam on PC, Mac, and Linux, TTD fuses the beat'em up and shoot'em up genres into something new and refreshing, offering a host of fun, innovative gameplay mechanics all at 60 frames per second!
"We wanted to develop a video game that's easy to pick up but hard to put down. With art direction from Section Studios' Cecil Kim who's been instrumental with the God of War franchise, the concept art and visual effects are as captivating as the game is fun," said Scary Mostro Co-Founder Todd Alderman (Former Lead Game Designer at Infinity Ward and Respawn Entertainment).
You play as two great warriors who have killed each other but have a vendetta so deep, it continues after death in "The Crawl," the space between life and death.
Game Features:
Unique Storytelling and Adventure: Explore the world of the Crawl alternating between both warriors, conquering and discovering new levels, battling wave after wave of enemies that change each time you play.
Deep Combat: Build up both warriors on-the-fly with new powers, weapons, and ways to influence the balance into your favor. Swap out your gun for one that stuns enemies, then bring them to you with your magnetic shield upgrade, and finish the group of bad guys off with your sword's spin attack! Be creative and use your chosen abilities in many different powerful combinations.
Empowering Controls: Attack and defend with precision, having full 360 degree control of where you swing, shoot, and defend with a gamepad or keyboard + mouse configuration.
One-Of-A-Kind Multiplayer: You can get a quick fix unravelling the single player story, or play co-op for hours with a friend, or even battle to the death with a brand new splitscreen back and forth versus mode.
Fellow Scary Mostro Co-Founder Francesco Gigliotti (Former Lead Software Engineer at Infinity Ward and Respawn Entertainment) continued, stating "Formosa Interactive, an award winning movie and game sound design company, is responsible for TTD's sound design, and we have award-winning songwriter, performer, producer and ex-Machine Head lead guitarist Logan Mader on board to compose the soundtrack."
TTD is currently in its prototype phase. With a Kickstarter goal of $400,000, Scary Mostro and Section Studios will be able to retain creative freedom over TTD, incorporating backers' feedback, voice, and perspective directly into the game.
Kickstarter: http://www.kickstarter.com/projects/scarymostro/1136538323?token=313be532
ttdgame.com
twitter.com/ttd_game
facebook.com/tothedeathgame
About Scary Mostro: A video game developer based in Valencia CA, devoted to building fun, exciting games with a high standard of quality.
About Section Studios: A Multi-Disciplinary Media Solutions company based in Los Angeles CA specializing in Concept Art, Game Development, VFX, Web Design and Full service Publishing.
Contact:

Vince Bitong
Email Contact


Copyright @ Marketwire
Page: 1
Related Keywords:
Graphics Designer, Game Development, Web Designers, Publishing, Game Designer, Graphics, Design, Art/Paint, Unix, Linux, Marketwire, Science, Internet Technology, Game Technology, Biology, Engineering, Other,
---