DARCHON #0 Preview Debuts Exclusively on Bleeding Cool
First Look at Supernatural Hero's Thrilling Free Comic Book Day Story
(April 14, 2014)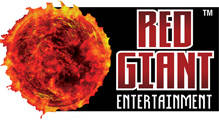 ORLANDO, FL -- (Marketwired) -- 04/14/14 -- Red Giant Entertainment Inc. (OTCQB: REDG), an innovative Intellectual Property company specializing in high quality characters and content for use in a variety of media and entertainment, is happy to announce that a five-page "first look" preview of DARCHON from GIANT-SIZE THRILLS #0 has debuted exclusively on popular comics entertainment news website BleedingCool.com.
DARCHON, Red Giant's horror series written by Pulitzer Prize-nominated and Bram Stoker Award-winning novelist Mort Castle, premieres in GIANT-SIZE THRILLS #0, one of Red Giant's four limited edition #0 issues with a combined circulation of 400,000 copies available in stores starting on May 3rd (Free Comic Book Day). DARCHON chronicles the colorful history of paranormal investigator Darchon Blaque as he goes face to face with all manner of supernatural peril.
Bleeding Cool was founded five years ago by comics journalist Rich Johnston and quickly exploded in popularity. By 2011, the site was ranked as the #1 comics entertainment blog in the world by Technorati, giving it "a perfect 1000 score for influence in the comics category." In 2012 it even spun off into a top-selling print magazine for comics fans, Bleeding Cool Magazine.
"BleedingCool.com has become a daily 'must read' for both industry insiders and fans alike, including yours truly," said David Campiti, COO of Red Giant Entertainment. "It's wonderful to be teaming with the site to offer their millions of readers worldwide this thrilling first look at DARCHON."
The five-page DARCHON #0 sneak peek can be found at the following link:
http://www.bleedingcool.com/2014/04/13/free-comic-book-day-preview-mort-castles-darchon-0/
Red Giant provides news and updates at the following online locations.
http://redgiantentertainment.com and on https://www.facebook.com/RedGiantEntertainment
ABOUT RED GIANT ENTERTAINMENT INC.
Red Giant Entertainment Inc. (OTCQB: REDG) is a Nevada corporation that specializes in intellectual property (IP) development for multiple media platforms and transmedia propagation. The cornerstone of this development is based around the more than three dozen online and print graphic novel properties in various stages of production as well as the cast of thousands of characters from those series. These properties have a readership that numbers in the millions globally. Some of these properties are actively in development into other media such as movies, video games, television, novels, toys, apparel, applications, etc. through either direct production or licensing agreements.
Forward Looking Statements
This press release may contain "forward-looking statements." Any statements that are not statements of historical fact, including but not limited to statements containing the words "believes," "plans," "anticipates," "expects," "look forward," "estimates" and similar expressions, should be considered to be forward-looking statements. Actual results may differ materially from those indicated by such forward-looking statements as a result of various important factors, to include acquisition, production, marketing, distribution, competition with related patent, trademark and license issues involving contractual obligations and concessions. The Company does not assume any obligation to update any forward-looking statements to reflect events or circumstances after the date of this press release, except as required by applicable law. The Company files annual, quarterly and current reports, proxy and information statements and other information with the Securities and Exchange Commission. This press release should be read in conjunction with all of the reports that the Company has previously filed with the Securities and Exchange Commission for financial and other information about it. The references to the websites http://redgiantentertainment.com and www.facebook.com have been provided as a convenience, and the information contained on such websites is not incorporated by reference into this press release.
Company Contact:
Red Giant Entertainment Inc.
877-904-7334

Investor Relations Contact:
Kurt Divich
Integrity Media Inc.
(702) 396-1000
Email Contact
www.IntegrityIR.com


Copyright @ Marketwire
Page: 1
Related Keywords:
Toys, Gaming, Movies & Music, Web, Movies by Genre, Applications, Video, Blogs/videoblogs, Marketwire, Inc., Television, Games, Lifestyle, Game Technology, Entertainment, Other,
---