Award-Winning Horror Writer Mort Castle Signs on for New Red Giant Comic "Darchon"
(August 19, 2013)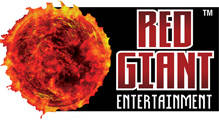 ORLANDO, FL -- (Marketwired) -- 08/19/13 -- Red Giant Entertainment Inc. (OTCQB: REDG), an innovative Intellectual Property company specializing in high quality characters and content for use in a variety of media and entertainment, is pleased to announce that Pulitzer prize nominated horror novelist Mort Castle is writing the Company's new 'Darchon' monthly horror series for the GIANT-SIZE THRILLS free monthly comic coming in 2014.
Internationally lauded Castle is an award winning horror writer with a strong following. He has been called a "horror doyen" by Publishers Weekly, "El Maestro del Terror" by South America's Galaxia Cthulhu, and "The master of contemporary horror" by Poland's Nowa Fantastyka magazine. In June of this year, he won a Horror Writers Association Bram Stoker Award® for "Superior Achievement in a Fiction Collection" for New Moon on the Water. Castle also won two Black Quill awards as editor for his work in the horror genre, and has been nominated for the Pushcart Prize and the International Horror Guild Award.
"Terror as traditional as Lovecraft and as current as CNN's coverage of tomorrow's serial killers is what Mort Castle promises for Darchon, Red Giant's monthly horror title," states David Campiti, Chief Operating Officer, Red Giant Entertainment. "Castle is a living legend in the horror category and the perfect writer to helm this project. He literally wrote the book On Writing Horror, for the Horror Writers Association, with such luminaries as Stephen King and Harlan Ellison. We're delighted to add his tremendous skill-set to this compelling series."
"Darchon Blaque is a paranormal investigator, the principal player in the concept created by Red Giant's Benny Powell," Castle says. "He goes face to face with all manner of supernatural peril, but he's no retread of Kolchak's 'Monster of the Week,' or a new seeker of 'the truth is out there'; Darchon knows the greatest horrors are often found in the closet -- and in the mirror."
Further information about Red Giant Entertainment is available on our website at http://redgiantentertainment.com and on www.facebook.com/RedGiantEntertainment.
ABOUT RED GIANT ENTERTAINMENT INC.
Red Giant Entertainment Inc. (OTCQB: REDG) is a Nevada corporation that specializes in intellectual property (IP) development for multiple media platforms and transmedia propagation. The cornerstone of this development is based around the more than three dozen online and print graphic novel properties in various stages of production as well as the cast of thousands of characters from those series. These properties have a readership that numbers in the millions globally. Some of these properties are actively in development into other media such as movies, video games, television, novels, toys, apparel, applications, etc. through either direct production or licensing agreements.
Forward Looking Statements
This press release may contain "forward-looking statements." Any statements that are not statements of historical fact, including but not limited to statements containing the words "believes," "plans," "anticipates," "expects," "look forward," "estimates" and similar expressions, should be considered to be forward-looking statements. Actual results may differ materially from those indicated by such forward-looking statements as a result of various important factors, to include acquisition, production, marketing, distribution, competition with related patent, trademark and license issues involving contractual obligations and concessions. The Company does not assume any obligation to update any forward-looking statements to reflect events or circumstances after the date of this press release, except as required by applicable law. The Company files annual, quarterly and current reports, proxy and information statements and other information with the Securities and Exchange Commission. This press release should be read in conjunction with all of the reports that the Company has previously filed with the Securities and Exchange Commission for financial and other information about it. The references to the websites http://redgiantentertainment.com and www.facebook.com have been provided as a convenience, and the information contained on such websites is not incorporated by reference into this press release.
Contact:
Company
Red Giant Entertainment Inc.
877-904-7334

Investor Relations

Kurt Divich
Integrity Media Inc.

Email Contact
www.IntegrityIR.com
(702) 396-1000


Copyright @ Marketwire
Page: 1
Related Keywords:
Toys, Gaming, Movies & Music, Movies by Genre, Marketwire, Inc., Financial, Television, Games, Lifestyle, Game Technology, Entertainment, Other,
---